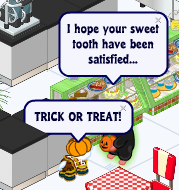 Webkinz World's 2010 Trick or Treat event is just around the corner, and Webkinz players everywhere are preparing to hunt for "Spooky" the Mazin' Hamster in the Clubhouse.
Just like last year's event, the objective is to collect twelve pieces of candy. Once a player completes the candy collection, he/she will receive a pumpkin that can be "carved" with a customized face. Unlike last year's event, the candy will be passed out by Spooky instead of a Ghost. It is worth noting that, unlike other Hamsters in Webkinz World, this special Spooky will be carrying a small jack o' lantern. Also, Spooky will make a "Boooo!" sound when he appears.
Spooky will be running around in the Clubhouse starting on Friday, October 22, and ending on Sunday, October 31.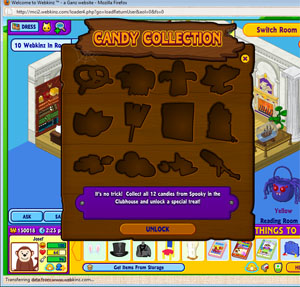 A spider Halloween bucket should have appeared in the lower right-hand corner of your screen when you are either in the clubhouse or your room. Click on it to view your candies. Once you collect them all, click unlock to unveil your special prize!
You can only collect candy from him once every three hours, so come back often!
Signs of a Pattern so far:
The rooms are pretty random. But the times & color zones that I've tracked thus are:
59/:00 - Gold; Pink; Yellow; Lt. Blue; Dk. Blue; Green
:10 - Yellow; Lt Green; Lt. Blue
:14/:15 - Green; Gold; Yellow; D. Blue; Pink
:25 - Green; Lt. blue
:29 - Dk Blue; Pink; Gold
:40 - Lt Blue (only 1 confirmed sighting)
:45 - Dk Blue; Lt Blue; Pink; Yellow
:55 - Lt Blue; Green
I hope this helps all of us to tracking Spooky!
Candy can be collected only every 3 HOURS and you MUST BE in the room before Spooky arrives!